Note: We may earn a commission from helpful, relevant links in our content. No cost to you. See our privacy policy.
There's no denying that cats are a joy to have around, but their natural instinct to scratch can leave your carpets looking worse for wear. 
If you're tired of constantly dealing with frayed edges and unsightly claw marks, you're not alone. 
This guide will help you understand the reasons behind your cat's carpet-scratching behavior and provide you with practical solutions to protect your home.
Key takeaways:
Cats scratch carpets for claw maintenance, territory marking, and anxiety relief.
Use deterrents, alternative scratching options, and positive reinforcement to curb behavior.
Employ carpet guards, strategic furniture placement, and rugs to protect carpets.
Repair damaged carpets with trimming, reattaching loops, patching, or professional help.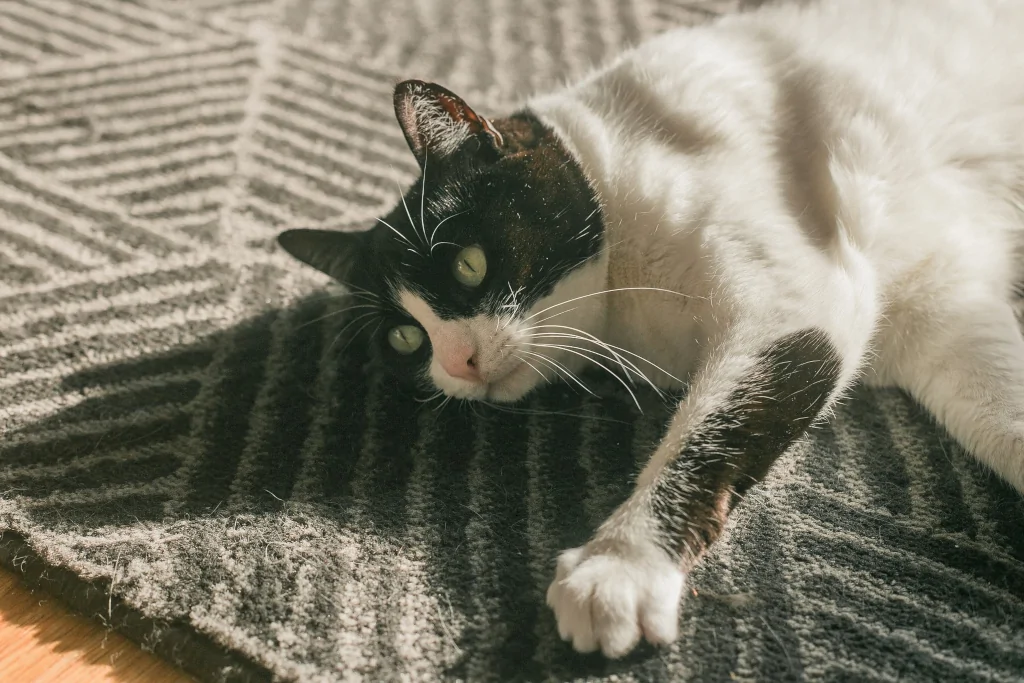 Tackling the Carpet-Scratching Dilemma
Cats love to scratch, and carpets are often their prime target (as well as some owners).
Scratching is a normal feline behavior that helps them remove the outer layer of their claws, stretch their muscles, and mark their territory. 
Unfortunately, this instinctive habit can damage your carpets, leaving you frustrated and searching for solutions.
Why Do Cats Scratch Carpets Near Doors?
Cats have a few reasons for scratching carpets near doors, which can be better understood by exploring these common motives:
Marking Territory
Cats are territorial creatures, and scratching near doors is a way to claim their space. 
This behavior leaves visual marks and releases scent from glands in their paws, sending a message to other animals about their presence.
Anxiety or Boredom
Sometimes, cats scratch carpets near doors due to anxiety or boredom. If they're feeling stressed or are not getting enough mental stimulation, they may resort to scratching as a way to cope or pass the time.
Stretching and Claw Maintenance
Cats also scratch carpets to maintain their claws and stretch their muscles. 
Doorways are often chosen because they offer a sturdy surface that allows them to fully extend their bodies and get a good grip for an effective scratch.
How to Discourage Carpet Scratching Behavior
To protect your carpets and discourage your cat from scratching them, try implementing these effective strategies:
Deterrents and Repellents
One way to discourage carpet scratching is by using deterrents and repellents specifically designed for this purpose. A few options include:
Double-sided tape. Apply double-sided tape to the areas your cat frequently scratches. Cats dislike the sticky sensation, which may deter them from scratching in that spot.
Natural repellents. Use natural scents that cats find unappealing, such as citrus or eucalyptus oil. Mix a few drops with water in a spray bottle and apply it to the carpet areas where your cat tends to scratch.
Redirecting the Behavior: Providing Alternative Scratching Options
Offer your cat more appropriate scratching outlets to redirect their behavior away from your carpets. Some suggestions include:
Scratching posts. Invest in a high-quality scratching post or pad made from materials like sisal or corrugated cardboard. Place it near the areas your cat usually scratches to encourage use.
Cat trees. Cat trees with built-in scratching surfaces provide a multi-functional solution that allows your cat to scratch, climb, and perch in one place. Choose a sturdy cat tree with multiple levels, covered with sisal rope or other scratch-friendly materials, to encourage your cat's natural instincts in a safe and controlled manner.
Positive Reinforcement
Reinforcing good behavior can be just as effective as deterring unwanted scratching. Use positive reinforcement to encourage your cat to use their designated scratching areas:
Praise and treats. Whenever you catch your cat using their scratching post or pad, reward them with verbal praise and a treat to reinforce the positive behavior.
Playtime. Encourage your cat to use their designated scratching areas by incorporating playtime. Use toys or a laser pointer to guide your cat to the post, tree, or pad. This will help them associate it with fun and positive experiences.
Protecting Your Carpet: Practical Solutions
In addition to discouraging your cat from scratching, you can take steps to protect your carpets from potential damage. Here are some practical solutions to safeguard your carpets:
Doorway Carpet Guards
Doorway carpet guards are designed to shield your carpets from wear and tear, particularly in high-traffic areas and near doorways where cats often scratch. 
These guards are made from various materials, such as clear plastic or metal, and can be easily installed over your existing carpet. Some popular options include:
Vinyl carpet protectors. These clear, durable protectors are easy to install and clean. They come in various sizes and can be cut to fit your specific doorway dimensions.
Metal carpet guards. Sturdier than their vinyl counterparts, metal guards provide increased protection and durability. These guards are also available in different sizes and finishes to match your home's aesthetic. Look at your local hardware store.
Using Furniture to Block Access
Strategically placing furniture can help protect your carpets by limiting your cat's access to vulnerable areas. Keep these tips in mind when arranging your furniture to deter scratching:
Position furniture to cover carpet edges. Place sofas, chairs, or bookshelves along the edges of your carpets or near doorways, where cats commonly scratch. This can help discourage your cat from targeting those areas.
Create barriers with pet gates. Use pet gates to restrict your cat's access to certain rooms or areas with carpets that you want to protect. This will help limit their opportunity to scratch and cause damage.
Additional Protective Measures
Consider these extra measures to further safeguard your carpets:
Area rugs and mats. Place area rugs or floor mats in high-traffic areas and near doorways to protect your carpet underneath. Make sure to choose pet-friendly materials that can withstand your cat's scratching habits.
Carpet runners. Use carpet runners in hallways and other narrow spaces where your cat may scratch. These runners can help protect the underlying carpet and can be easily replaced if they become damaged.
Tips for Repairing Damaged Carpets
If you've found that your carpet has already suffered some damage from your cat's scratching, don't worry – there are ways to repair it and restore its appearance. Here are some handy tips for fixing damaged carpets:
Trim loose fibers. If you notice loose fibers sticking out from the carpet, use a pair of sharp scissors to trim them carefully down to the carpet's surface level. Be cautious not to cut too much, as it could create an uneven appearance.
Reattach pulled loops. For looped carpets, you may find that some loops have been pulled out by your cat's claws. Using a crochet hook, gently pull the loop back through to the correct side of the carpet, and if needed, secure it in place with a dab of fabric glue.
Patching small areas. For small, damaged areas, you can create a patch using a leftover piece of the same carpet or a piece from a hidden area, such as a closet. Cut the patch to the size of the damaged area, apply carpet adhesive to the back, and press it firmly into place. Make sure the patch's pile direction matches the surrounding carpet.
Professional help for extensive damage. If the damage is too severe or widespread, consider hiring a professional carpet repair service. They have the expertise and tools to seamlessly fix your carpet and restore its original appearance.
Remember, prevention is always better than cure. By implementing the strategies mentioned earlier in this blog post, you can minimize the risk of further carpet damage and maintain a harmonious relationship between your cat and your home's flooring.
We also have a guide on protecting your furniture from cat scratches, so give that a read.
Conclusion: Balancing Cat Behavior and Carpet Care
As you journey through the world of cat ownership and carpet care, remember that it's all about finding the right balance.
By understanding your feline friend's natural instincts and providing them with appropriate alternatives, you'll be on your way to creating a harmonious home for both you and your cat. 
With a combination of preventive measures, positive reinforcement, and practical solutions, your carpets can remain intact and looking fresh. Embrace the joys of cohabitating with your beloved kitty, and let your home be a testament to the bond you share.
FAQs
Can trimming my cat's claws prevent carpet scratching?
Trimming your cat's claws can reduce carpet scratching, but it's essential to provide alternative scratching surfaces to address the root of the behavior.
Are certain carpet types less appealing to cats for scratching?
Cats may find looped carpets less appealing for scratching than cut pile carpets due to the difference in texture.
Can I use double-sided tape to deter my cat from scratching the carpet?
Double-sided tape can effectively deter cats from scratching the carpet, as they dislike the sticky sensation on their paws.
Is it okay to use a spray repellent to protect my carpet?
Using a spray repellent specifically designed for cats is acceptable to protect your carpet, but make sure to test it on a small hidden area first to ensure it doesn't cause discoloration or damage.