Are Dollar Tree dog treats a smart bargain or a hidden hazard for your furry friend? Many pet owners find themselves torn between savings and safety when it comes to these affordable treats. 
To help you navigate the world of dollar store pet treats, we'll provide essential tips and insights that will empower you to make informed decisions for your dog's well-being.
Follow this guide to choose the right training treats for your dog!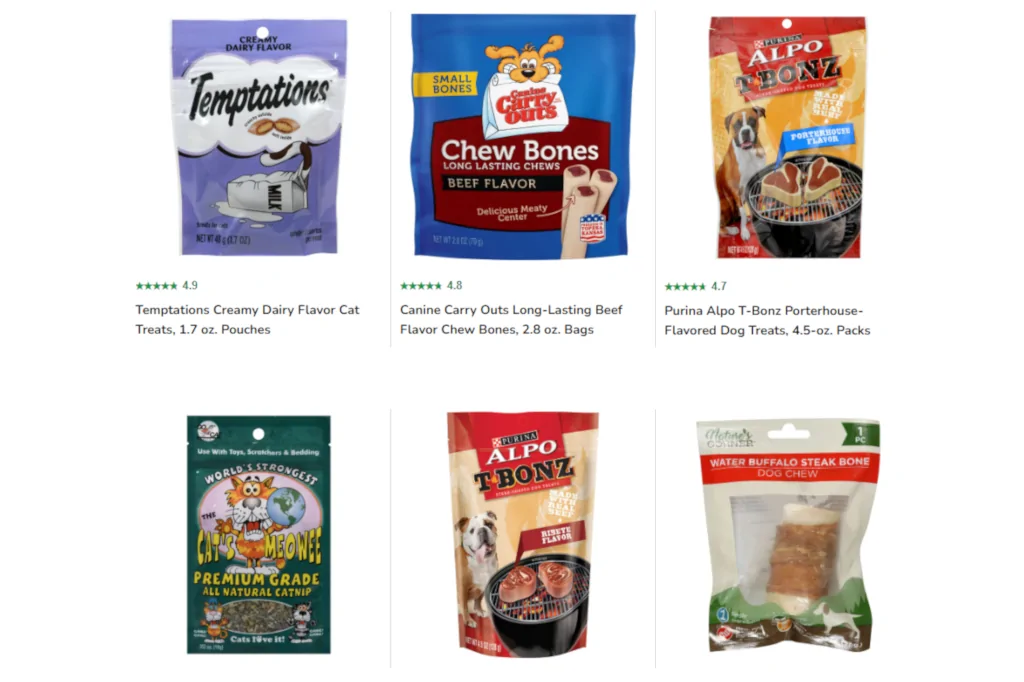 The Lowdown on Dollar Store Dog Treats
Dollar store dog treats are a popular choice for pet owners looking to save some money without skimping on their dog's happiness.
These treats come in a variety of flavors and types, and although some may be perfectly safe, others might not meet the quality standards you'd expect for your pet.
Understanding what goes into these treats and the factors that contribute to their safety will help you make the best decision for your furry family member.
Evaluating Quality and Safety: What to Look For
When trying to determine if Dollar Tree dog treats are safe for your canine companion, consider the following factors:
Ingredients
Always check the ingredient list on the treat's packaging. Look for high-quality, natural ingredients that are easily recognizable. Avoid artificial colors, flavors, and preservatives, as well as excessive amounts of salt, sugar, or unhealthy fats.
High-quality, natural ingredients include lean meats (like chicken, beef, or fish), fruits and vegetables (like apples, carrots, or sweet potatoes), and whole grains (like brown rice or oats).
An excessive amount of salt, sugar, or unhealthy fats would be anything beyond the recommended daily allowances for dogs, which varies depending on their size and activity level.
Country of Origin
The country where the treats are made can impact their safety. Some countries have more stringent regulations and safety standards than others. Opt for treats manufactured in countries with strong safety records, such as the United States, Canada, or Western European countries.
Expiration Date
Examine the treat's packaging for an expiration date. Consuming expired treats can cause health problems for your dog, so it's crucial to ensure the treats are fresh and well within their shelf life.
As a general rule, it's best to avoid giving your dog treats that are about to expire.
However, if the treats are only a week or a month away from their expiration date and show no signs of spoilage, you may use your discretion in offering them to your dog. Always monitor your dog for any adverse reactions.
To keep your treats nice and soft, without getting too hard for your dog to chew, follow this guide.
Product Reviews
Research reviews from other pet owners who have purchased the same treats. Their experiences can provide valuable insight into the treat's quality and safety.
Recall History
Check for any recall history associated with the brand or specific treats. A history of recalls may indicate potential safety concerns or poor quality control. You can get recall information at https://www.recalls.gov, or at the FDA Recalls and Withdrawals page, services provided by the U.S. Government.
By carefully considering these factors, you can make a more informed decision about whether Dollar Tree dog treats are a safe and healthy option for your beloved pet.
Recalls and Safety Concerns: Are These Treats Safe?
In the past, there have been instances where pet treats from dollar stores have been recalled due to contamination or harmful ingredients.
However, it's important to note that recalls can happen with any brand, regardless of the price point. To stay informed about recalls, regularly check the U.S. Food and Drug Administration (FDA) website, at recalls.gov, or sign up for their email alerts.
Even the Dollar Tree website has a page for recalls, but it may not be as comprehensive or as accurate as those US government websites.
By staying vigilant and monitoring for potential issues, you can better protect your dog's health and well-being.
Making an Informed Choice: Bargain or Risk?
Deciding whether to buy Dollar Tree dog treats ultimately comes down to weighing the potential risks and benefits.
While these treats may be budget-friendly, it's crucial to prioritize your dog's health above all else. Keep in mind the factors discussed in this article, such as ingredients, country of origin, expiration date, product reviews, and recall history.
If you find a treat that checks all the boxes and meets your standards, it could be a great bargain for you and your dog.
However, if you're unsure about the quality or safety of the treats, it may be worth investing in a more reputable brand or even making homemade dog treats.
Remember that you have the power to make an informed choice, and your dog's health and happiness should always be the top priority. Trust your instincts and choose treats that you feel confident about, so you can enjoy treating your pup without any worries.
Tips for Choosing Healthy Dog Treats on a Budget
Finding healthy dog treats on a budget is definitely possible if you know what to look for. Here are some tips to help you make the best choices for your furry friend:
Read the ingredient list. Opt for treats with natural, wholesome ingredients and avoid those with artificial additives, preservatives, or excessive amounts of sugar or salt.
Research brands. Look for reputable brands with positive customer reviews and a commitment to quality and safety. Your vet can recommend this, 
Buy in bulk. Purchasing larger quantities of treats can often lead to cost savings, especially if you find a brand you trust.
Make your own treats. Creating homemade dog treats allows you to control the ingredients and save money in the long run. Here are some ideas in our article in the section on making high-value treats at home.
Shop sales and discounts. Keep an eye out for deals at your local pet store or online retailers to find budget-friendly, high-quality treats.
Check out our other pet guides to learn more about diet, nutrition, training and taking care of your furry friends. You can learn more about dog training treats, or check this guide to choosing the perfect training treat for your pup. Make sure you know how to keep your pup safe.
FAQs