Note: We may earn a commission from helpful, relevant links in our content. No cost to you. See our privacy policy.
You can shave an American Eskimo dog, but it's typically not recommended because they need it to cool off and regulate temperature. Shaving them once a year shouldn't be an issue, especially in getting rid of matting. However, avoid shaving them down to the undercoat.
To minimize the risk, aim for a trim during spring before the harsh summer heat kicks in, giving their coat a chance to grow back somewhat before they truly need it.
Cutting their hair can make the dog even more uncomfortable when the weather gets hot. While you should address matting and other issues, the double-coated hair on an Eskie is essential for proper temperature regulation and sunburn prevention.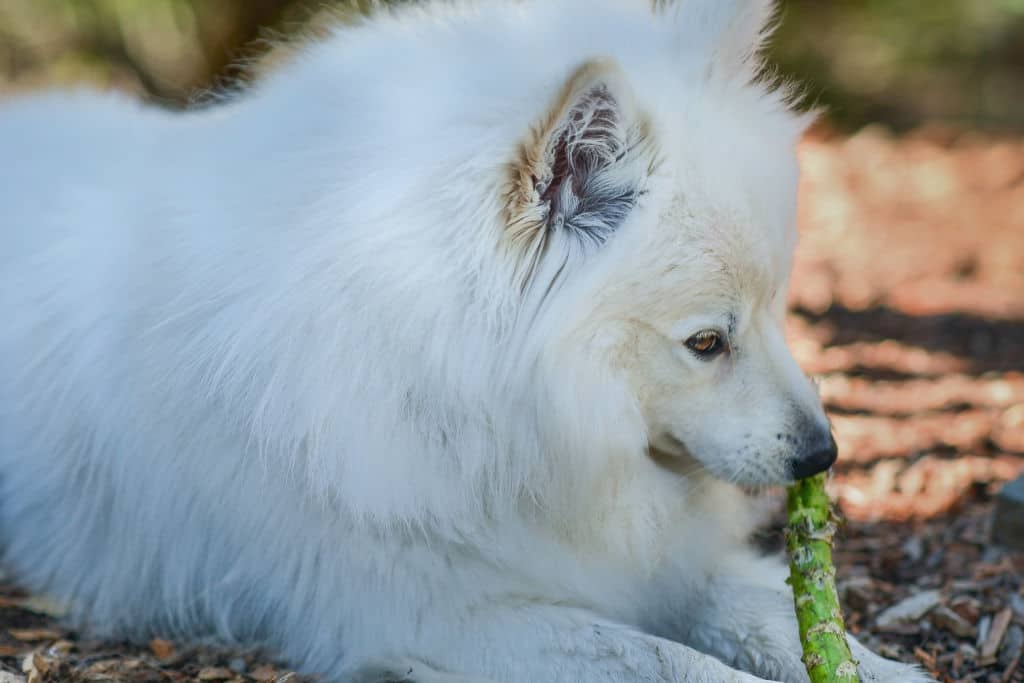 Why Shaving Down an American Eskimo Is a Bad Idea
It's one thing to cut the hair hanging over a dog's eye, but completely another to shave down a dog.
With their double coats, our Eskies have a very effective insulating layer that prevents both the heat and the sunburning effects of the summer sun. By removing the insulating coat, you are only reducing its effectiveness.
Because dogs do not sweat, having bare skin does not create the wicking action humans do. Instead, their body has evolved to reduce temperature fluctuations and to allow them to expel excess heat through panting.
However, an owner will frequently misinterpret a dog's panting or "smiling" as happiness when it can be a sign of overheating. Eskies and other double-coated dogs require their hair as insulation and a barrier against direct sun rays.
Keep in mind that insulation does not keep heat in; rather, it prevents and reduces heat transference. As a result, because the amount of heat absorbed from the sun is reduced, a dog's cooling system does not have to work as hard to keep them cool.
Should American Eskimos Be Trimmed?
Just because shaving an Eskie can be risky, it doesn't mean they can't be trimmed a bit. American Eskimos can be trimmed occasionally to keep the hair cleaner and neater. Eskies are usually trimmed around the feet and behind.
You could trim your Eskie's fur every few months if it becomes too long, but try to avoid trimming down to the undercoat because it may cause problems with temperature regulation.
Sanitary trimming, or trimming around the anus, is perfectly acceptable. This is frequently advised because excessive hair on the back can lead to infection. You can do sanitary trimming every other month or as needed.
For those hesitant about doing sanitary trims at home, a professional groomer's expertise is invaluable. They'll know the precise length to cut without jeopardizing your dog's natural protection.
If Shaved, Will Their Coats Grow Back?
Within six months, their coat will regrow at a slower rate. The only part of their body that takes a long time to grow back is their undercoat, which does grow back but takes longer. However, if you continue to shave them, it may cause temperature regulation issues.
However, blending the shaved area into the surrounding area may take some time and good grooming. Brushing them regularly when their fur is growing is highly beneficial. Keep them out of the sun as we approach summer in the United States.
If you observe your Eskie scratching excessively post-shave, it's worth consulting your vet. Shaved skin can sometimes become itchy or irritated, and it's crucial to rule out potential allergies or infections.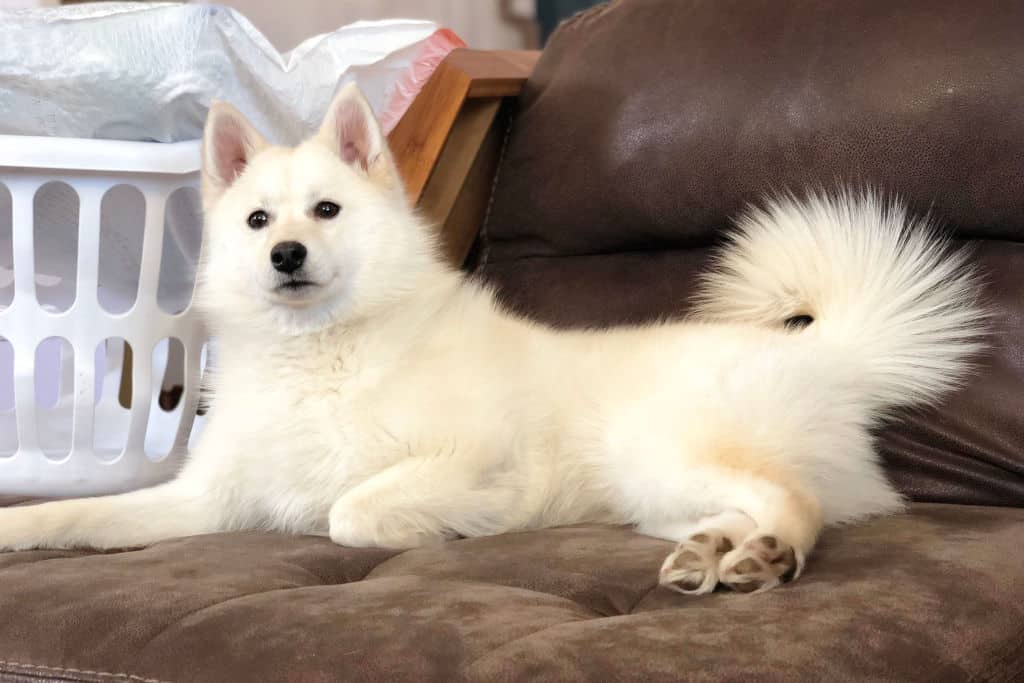 Good Reasons for Trimming an American Eskimo dog
Being matted is frequently far worse than being trimmed. Clipping out matts as needed is acceptable, but have it done by a professional.
Matting can be much closer to the skin than it appears, pulling the skin up into knots. Using scissors to cut this out can be extremely dangerous.
In addition to preventing other issues like Pseudocoprostasis, shaving their behind prevents poop from getting stuck in their fur. When feces and matted hair cover and obstruct the anal opening, passing additional feces becomes difficult. They are usually only groomed for this once or twice a year.
When booking a grooming session, specify your needs and concerns about matting. Many groomers are now adopting 'mat-only' shave policies, which can be a benefit for protective Eskie owners.
What to Do About Shedding in American Eskimo Dogs?
When it comes to shedding, brushing your Eskie helps a lot. Grooming removes excess and loose fur while also redistributing your dog's skin oils into its coat, which allows it to stay in place. The more you do it, the more accustomed they will become to grooming and will most likely enjoy it.
Feed a high-quality diet to your dog. Cheap dog food is made chiefly of fillers that dogs can't digest, such as corn and grains. Instead, look for dog food with meat as the first ingredient.
You can reduce your dog's shedding by supplementing their diet with Omega 3 fatty acid-rich olive or flaxseed oil. You can also feed your dog salmon and tuna to increase its omega-3 fatty acid intake.
Bathe them every 6-8 weeks. Bathing regularly encourages loose hair to fall out in the tub rather than on the furniture. After drying the dog with a towel, use a blow dryer on the lowest setting.
Dehydration can cause dry skin, leading to shedding and even illness. Make sure your dog has as much clean, fresh water as possible.
How to Protect a Shaved American Eskimo?
If you must shave an Eskie, ensuring their skin is protected is essential to their health. There are a few primary concerns.
You should shield their skin in a variety of ways. Because your dog's skin may be sensitive after the shave, avoid brush burn by using rubber brushes. Brush them even if there isn't much hair to promote healthy growth.
Sunburn is a severe issue for shaved dogs, especially for dogs with white coats. Make sure you're paying attention to sun exposure. If your dog is like most Eskies, they will have light skin. Limit their time outside during the day, or use dog-friendly sunscreen. You could also dress them in light dog clothes.
FAQs
Are American Eskimos high maintenance?
They are high-energy and typically require a bit more maintenance than other dogs. They're friendly and sweet dogs to adults and children, requiring regular walks and exercise. Eskies also require regular grooming and daily brushing to prevent tangles and mats.
Is there a home remedy to stop an Eskie from shedding?
There is no particular remedy to help with Eskie shedding, but there are many things you can do to help with shedding. These include a healthier diet supplemented with Omega 3 fatty acids, brushing daily, and bathing them every few weeks.
Do American Eskimos like the cold?
American Eskimos have thick double coats that make them resistant to cold weather and keep them warm in the snow. All Eskies like the cold weather, but since their farm dog days are long over, they typically live indoors and make excellent companions.