Note: We may earn a commission from helpful, relevant links in our content. No cost to you. See our privacy policy.
Imagine this scenario: Your furry friend is happily playing with a ping pong ball, chasing it around with glee. Then, in a split second, they decide to take a chomp, and suddenly the fun game turns into a potential emergency. Why?
Ping-pong balls can be super dangerous because of their size. Even if your dog doesn't choke on the ball or anything else, it can cause an intestinal blockage. To get rid of this, your dog may get very sick and eventually need surgery.
While it's common knowledge that certain items pose risks to our pets, understanding the specifics can be the difference between a fun play session and a dash to the vet. Let's dive deep into the concerns surrounding tennis and ping pong balls, their potential risks, and ways to ensure your pet's safety.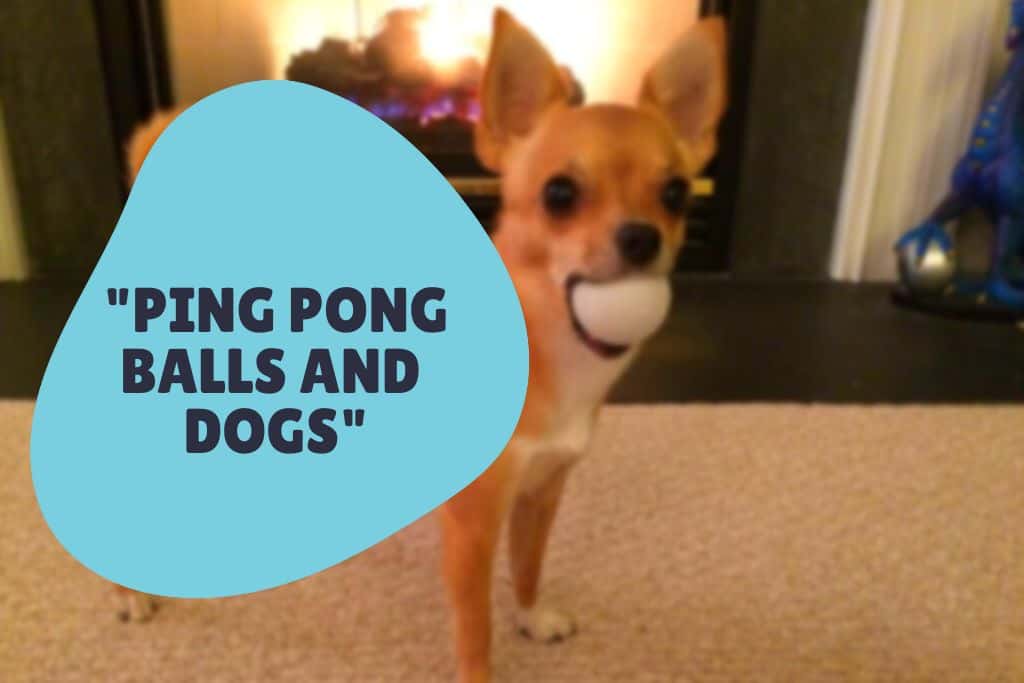 What Happens if Your Dog Swallows a Ping Pong Ball?
First, do not try to induce vomiting without checking with a veterinarian.
Most veterinarians will observe food and behavior for at least 24 hours before taking extreme steps. So you can keep an eye on it. If the dog is eating and pooping normally, has good energy, and doesn't vomit, he may be alright. 
Usually, the issue with ingesting large circular items is not immediately apparent. The risk arises when it attempts to go down the intestinal tract. 
Because the ball is spherical, it does not just go in one end and out the other. The shape contributes to the formation of a barrier. Food cannot go around it and cannot exit the other end. Pay for it if your emergency vet can induce vomiting and get it out. It will be MUCH less expensive than the operation to remove it from her intestines.
It's a true emergency. If your dog develops a bowel obstruction due to this, he or she will die. That's how bad it is.
Some canines are capable of processing this. My friend's lovely labrador died as a result of this since they didn't realize it was an emergency. You must be extremely cautious about what a naughty, curious pet may consume, just as you would with a kid.
Ping-pong balls can be dangerous, and to be completely safe, they should be kept out of the reach of your dogs. If your dog is fortunate enough not to choke, the ball or any other object can create an intestinal obstruction. A block may necessitate surgery to remove, or your dog may suffer serious health risks.
While choking in dogs is rare, eliminating small round items can be beneficial. Marbles, rocks, bones, and small balls are common choking dangers for dogs of all sizes. Preventive measures are the best. Otherwise, it can get difficult to take care of your dog.
Can Dogs Choke on Ping Pong and Tennis Balls?
While many dogs enjoy playing with tennis balls, there's often a looming question among pet owners: are tennis balls bad for dogs? The concern primarily revolves around the potential for ingestion, tooth wear, and choking.
Dogs like to play with balls, ping pong, or tennis. Even if the dog is merely pushing the ball about, for now, there's a strong possibility he'll learn it's amusing to try to eat it.
Tennis balls are a hazard in a variety of ways. Choking on them appears to be a common occurrence in dogs. Furthermore, tennis balls are rough and will wear down the teeth of a chewer dog.
Tennis balls are also harmful since the "fur," in combination with the dirt and sand, grinds down their teeth over time. Instead of tennis balls, give your dog ChuckIt Ultra Balls to play with.
Never offer the dog tennis balls if they damage them. Balls come in various shapes and sizes, and a typical tennis ball can be a choking hazard for a large breed dog. Keeping an eye on their play or purchasing a bigger ball is the best solution.
Which Balls Are Safe for Dogs?
It's always wrong to give a typical-sized tennis ball to a much larger dog to play with. Extra-large tennis balls are available at major chain pet stores and online, allowing you to offer a larger tennis ball to your huge breed dog without fear of choking.
One of those is the Ultra ChuckIt Balls. Chuckit ultra balls are incredible in terms of durability. They are around the size of a tennis ball. You can get appropriate sizes for your dog so it can't swallow them.
Extra large tennis balls are available, as is a big-sized kong ball made of the same rubber as a kong. Even vicious pit dogs struggle to make a dent in a black kong ball.
Orbee-Tuff Sports Balls are also considerably more durable than tennis balls, though we did notice that the yellow parts began to tear away from the underlying ball after some use.
If you have a bigger breed dog, try to spend the money on appropriate toys. Try to avoid buying some cheap tennis balls at the dollar store.
Also, try to avoid other potentially dangerous toys for dogs.
You could purchase toys for your pet from a local pet store. Most pet stores also stock a variety of sizes of tennis balls, as well as gigantic tennis balls for large dogs. I've also seen dogs chip their teeth on a hard plastic Frisbee. Invest in canine-specific polymers.
How to Tell if Your Dog Has an Upset Stomach?
If your dog has any of these symptoms after swallowing a ball, it's a medical emergency and may be in a life-threatening situation:
Respiratory difficulty (heavy panting, inability to breathe, etc.)
Swelling around the face or neck
Excessive or non-productive vomiting
Seizures
Loss of consciousness
Pale or blue gums
These can be dangerous, so you should bring your dog to the vet as soon as possible, and don't worry about not having any papers. Other non-critical symptoms that need to be checked by the veterinarian include the following:
Diarrhea
Blood in the urine or difficult/painful urination
Abnormal gait or balance problems
Vomiting
Lethargy
Abnormal increase or decrease in appetite, thirst, or urination
There are excellent resources to know more about these potential dangers for your pet. A few good resources include these first-aid tips from AVMA and this First-aid kit checklist from Red Cross. In any case, always call the vet first, and google questions later. Time is of the essence in these situations.
Your dog could ingest many harmful household objects. Learn about whether these are dangerous for your dog and what to do if your dog eats:
FAQs
How can I make sure the toys I give to my dog are safe?
Choose toys according to the size and chewing habits of your dog. Regularly inspect toys for wear and tear, replacing them when necessary. Always supervise playtime.
Are tennis balls dangerous for dogs?
An X-ray will confirm if a little tennis ball is inside your dog if it is undamaged. Otherwise, you'll have to wait and see. If your dog becomes quiet, lethargic, vomits, or rejects food, you should immediately bring him to the vet.
Are there alternatives to tennis balls for dogs?
Absolutely! There are many durable toys on the market designed specifically for dogs, such as the ChuckIt Ultra Balls and Orbee-Tuff Sports Balls. These are safer and more resistant to wear.
What to do if your dog starts choking on a ball?
Straddle the dog, bend their head back to straighten the airway, place their thumbs beneath the foreign item, use their mouth as a pivot to provide greater leverage, and move the ball out of their throat. It's pretty much squeezing the ball out.
Can a dog poop out a small ball?
Some objects may be small enough to pass through their system without causing any issues, but others may become trapped and cause your dog to become extremely unwell very rapidly. While the dog can poop out a ball, any obstruction can kill your dog.