Note: We may earn a commission from helpful, relevant links in our content. No cost to you. See our privacy policy.
Many owners don't know what's good or bad for two-month-old kittens and which products to buy. Typically, kittens thrive on a predominantly wet diet tailored to their caloric requirements. 
This article will help regarding options of wet and dry food, as well as what to avoid giving your two-month-old kitten. It's a quick read, so give it a go.
There are many options, but it's essential to research and choose what's best for your cats, not what's marketed the most.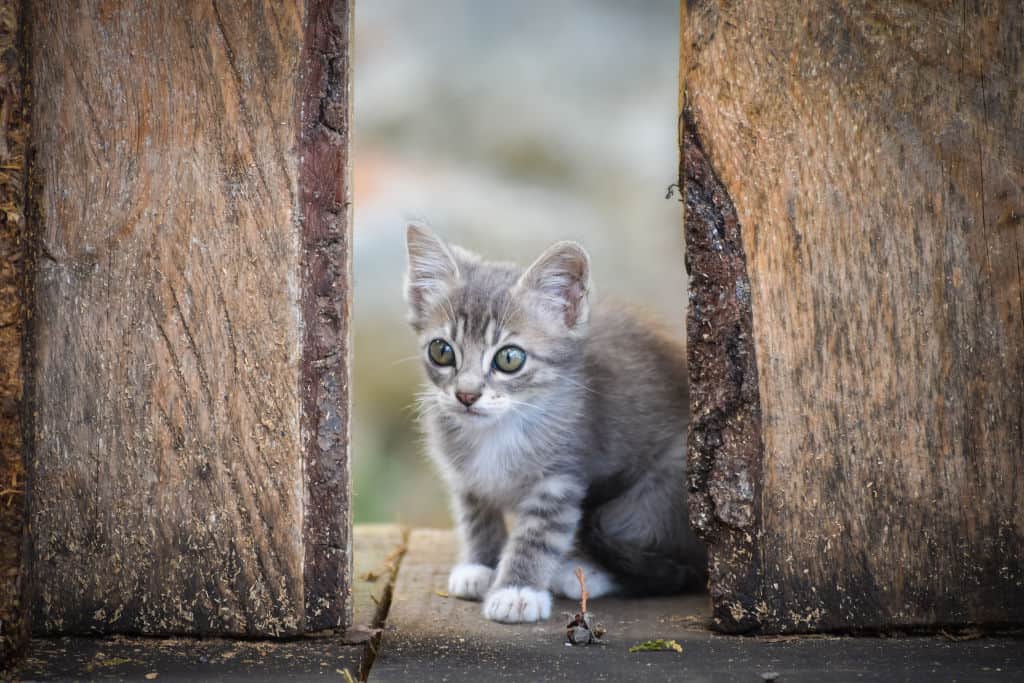 Can a 2-Month Old Kitten Eat Dry Food?
Both kittens and full-grown cats should eat a mix of wet and dry food to help their bodies get enough water. Starting with the softest kitten food is always good as kittens grow and approach the second month.
Wet food is preferable to dry food for kittens, but ensure the first item is real meat rather than a byproduct or a variant. As a result, feed your kitten wet food at least once a day and ensure she receives enough water, even if it's just a tiny bit.
Exposure to various foods as a kitten will benefit them in the long run since they will be less prone to acquire fixations or allergies. However, try to introduce the new meals gradually.
What Should You Feed Your 2-Month-Old Kitten With?
They'll require kitten food, either dry or wet, that contains a meat supply because cats are carnivores. They need kitten milk rather than regular milk and meat-based kibble or wet food.
As a general rule, you should feed your cat age-appropriate food. Not every brand is available everywhere, and not every brand is made equally. Cats can also be picky eaters, so your cats may not enjoy one product.
While many popular products are recommended on blogs and forums, such as Purina and Blue Buffalo, I don't consider these quality products (especially Blue Buffalo nowadays). 
I stumbled upon this independent research and wanted to share it with you. I included most products from that post and condensed the recommendations. Their analysis yielded promising results.
Some of the excellent food products for kittens:
Royal Canin Mother & Babycat Ultra Soft Mousse
Wellness CORE Classic Pate Kitten Food
Halo Holistic Grain-Free Whitefish Recipe
The Royal Canin's Mother & Babycat wet cat food is specifically formulated for very young kittens and their mothers. The texture of the mousse is very soft, which makes it easier for a young kitten to transition from milk to solid food. It's highly nutritious and digestible, ideal for their developing digestive systems and rapid growth.
Wellness CORE Classic Pate Kitten Food is another fantastic alternative. Wellness is a well-known and recognized brand, and its CORE line is a higher-end, grain-free alternative to its Complete range.
The Halo Holistic Grain-Free Whitefish Recipe is an excellent option for those prepared to spend a little more. Halo is dedicated to producing products devoid of "meat meals," GMO-free, and high quality. They do not use any Chinese components.
Because some kittens may not like fish, their chicken recipe for kittens is also advised. I recommend this cuisine because of the brand's track record when supplemented with other meat proteins.
Related: Guide to Cat Food Brands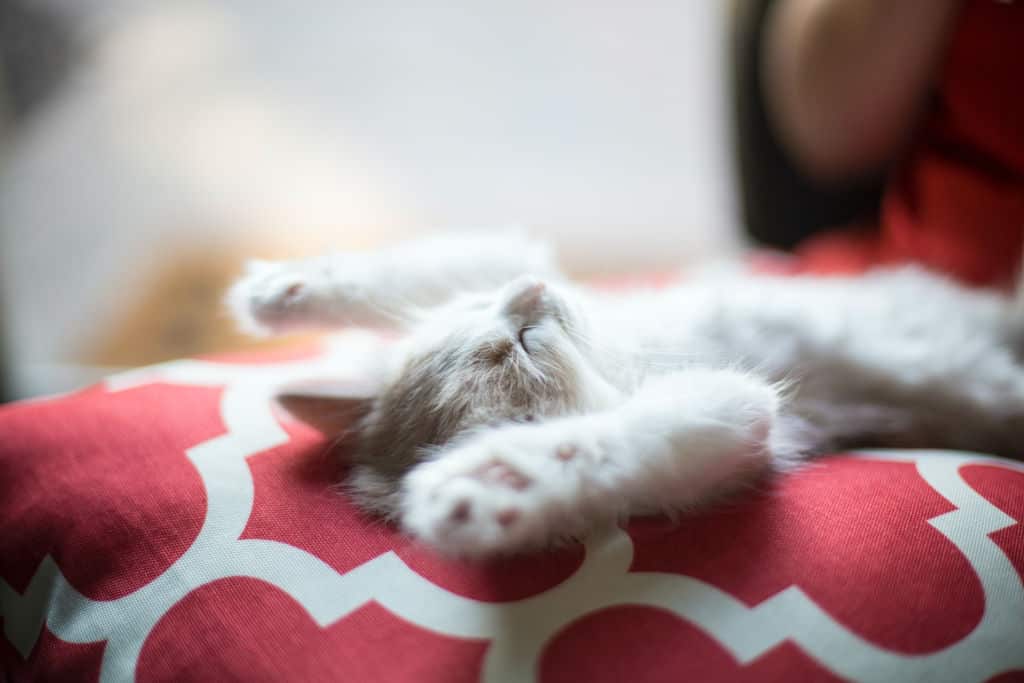 Some of the best dry food for kittens:
Acana First Feast Kitten Dry Cat Food
Instinct Original Grain-Free with Real Chicken
Nulo MedalSeries Limited Ingredient Cat Food
Simply Nourish Source Kitten Cat Dry Food
Merrick Purrfect Bistro Healthy Kitten food
Wellness CORE Kitten Food Natural
Acana First Feast Kitten Dry Cat Food is one of the most reputable brands, providing high-quality meals. So far, they've never had a recall. They pledge to use foods that are grown locally and sustainably.
Instinct Original Grain-Free with Real Chicken is a high-quality, protein-rich dry food that contains 81% animal ingredients and oils. Their wet food is well-rated and will supplement dry food if you prefer a single-brand diet. However, the ingredients may present some allergies, as identified in the FDA study.
Nulo Freestyle Cat & Kitten Food is an excellent choice for your young kitten. It's high in animal-based protein and includes a probiotic for digestive health. It's grain-free to reduce allergy risks, and the small kibble size is perfect for kittens' small mouths. This nutrient-rich food supports your kitten's healthy growth and development.
Simply Nourish Source Kitten dry food is another good product, though not readily available at some retailers. It's mainly composed of animal proteins. There are no artificial food coloring pigments.
Merrick and Wellness are both great products, and I've heard a lot of great experiences from many cat owners. You typically can't go wrong with any of these, though, due to your diligence and research, just in case. 
When changing diets for your kitten, remember to do so gradually. Changes in nutrition might induce stomach distress and diarrhea. It's not good for you or your kitten.
Related: How to Read Cat Food Ingredients List
Foods to Avoid Giving to Your 2-Month-Old Kitten
In general, kittens should not consume adult cat food. Kittens have different dietary needs than adult cats and require kitten food.
If possible, avoid foods found at the grocery store/general supermarket. These include brands like Whiskas, 9Lives, and Fancy Feast, due to low nutritional value they offer. They're more like 'junk food' for cats than a source of a healthy long-term diet. To see how we rate these brads, follow our guide on Top Cat Food Brands Reviewed.
Avoid foods high in carbs and fillers, like corn, peas, and sweet potato, and instead, opt for something meat-based and high in organs. Avoid cat food that contains wheat fillers in general.
Generally, the higher the price of the food, the higher the quality of the meat. Avoid Whiskas, which is like McDonald's for your cat.
Remember that your pet may have better options even if your veterinarian suggests something. Some vets are paid to recommend specific products, so conduct your own research and study as much as possible, especially on forums where no transactional incentive is involved.
In summary, avoid giving your kittens:
Adult cat food
IAMS, Whiskas, 9Lives, Fancy Feast
foods high in carbs and fillers, like corn, peas, 
food containing wheat fillers
Look into: Wet vs Dry Cat food Guide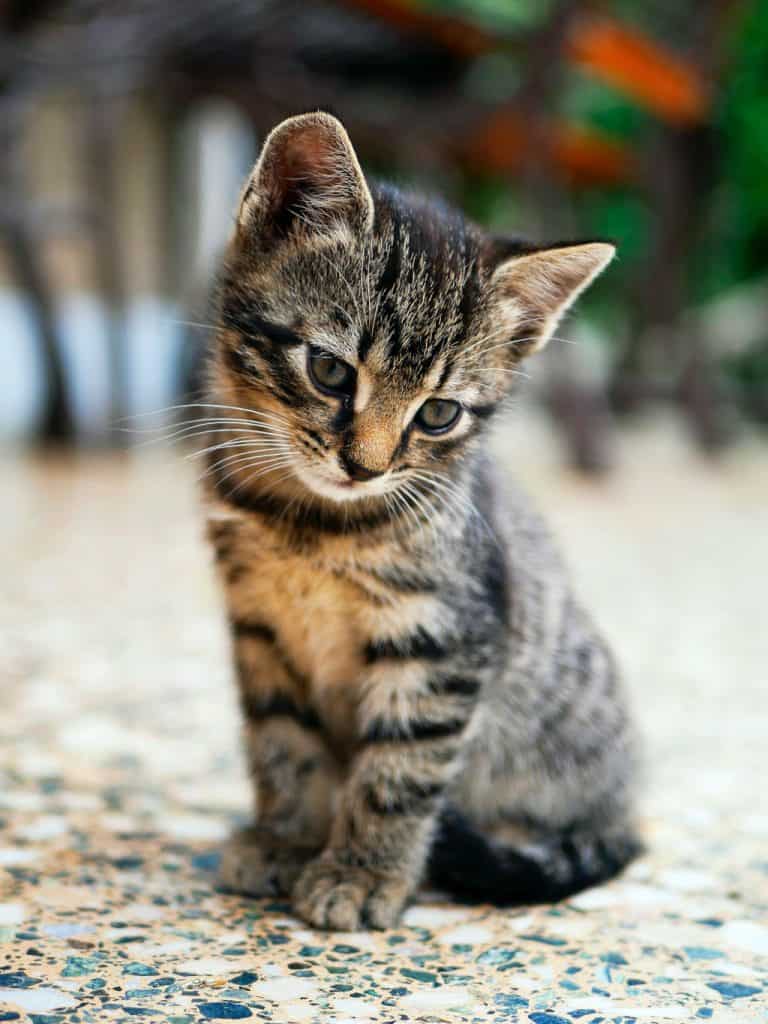 Do Two Month Old Kittens Need Milk?
Kittens naturally wean themselves off their mothers' milk between the ages of two and three months. They'll be drinking their mother's milk till then.
If this is not possible, you can feed them a kitten milk replacer, a substitute for their mother's milk. Two-month kittens don't need regular/cow milk. Do not give cow milk to your kitten because it might cause diarrhea and is rarely required.
If required, you can feed your kittens a milk replacer from 3-4 weeks to 6-12 weeks of age and progressively reduce the amount of it with wet food. Mix that commercial milk replacer in shallow dishes with little portions of wet, easily digestible commercial kitten food three to five times per day. 
Dive into: Guide to Choosing Wet Cat Foods
FAQs
How much do 2-month-old kittens need to eat?
Young kittens may eat about ⅓ of cups of food at a time, depending on the kitten's health. Take a look at the can is see how much to feed your kitten based on weight. I fed mine 1/2 of 3oz two to three times a day plus free feed dry.
How much should a two-month-old kitten weigh?
A two-month-old kitten's typical weight ranges from 1.3 to 3 pounds, with an average weight of two pounds. Kittens under six months usually weigh about their age in months, so a two-month-old kitten will weigh 2 pounds, a three-month-old kitten will weigh 3 pounds, and so on.
How many times a day should 2 month old kitten eat?
Feed your kittens at least three times daily with wet and dry food. Try a tiny amount of wet food in the morning, a small amount of wet food in the evening, and a bowl of dry kitten food available for them to eat whenever they choose.