Note: We may earn a commission from helpful, relevant links in our content. No cost to you. See our privacy policy.
Bonded leather furniture can be pretty cheap, but its durability is what many people ask me about. How durable is bonded leather?
Bonded leather can last long with the dog in the house, depending on the quality. A poor quality leather will peel and break within a year, while a polished top-grain leather may be a better choice. However, full-grain aniline leather will stand up like a champ, albeit it may stain.
While bonded leather has the appearance and feel of leather, lower-quality versions are often less durable and may start to peel soon. You're out of luck when that happens, as it will continue to peel on forever. Read on to see what you can do, in practical terms.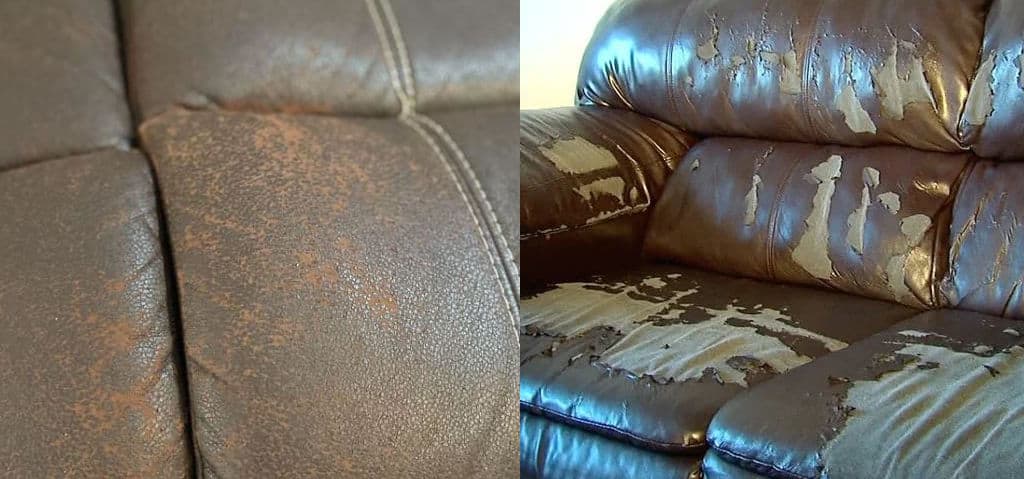 Will Bonded Leather Hold Up to Dogs?
Bonded leather is nice because the fur doesn't stick and is easy to wipe off. It also does not scratch as easily as expected from their nails, although this depends on the product's quality. Generally, bonded leather can hold up for quite some time, depending on the quality of the product.
I've had a couch made of cheaper bonded leather for nearly two years, and it still has no scratches. But I later learned that I was just lucky.
It appears to be the case that bonded leather is typically low-quality, and I wouldn't recommend it over real leather. Bonded leather lacks the structural strength of actual leather or vinyl, making it a poor option.
Opt for a leather match or vinyl if you can't afford a real leather couch. Otherwise, you'll be risking it.
There are various sorts of leather that you can try on at the store. Go to a big store with lots of choices and look around to learn about the different kinds of leather. Try discreetly scratching the leather samples or floor models.
Some couches melted like butter under my nails, while others took a hammering and escaped unscathed.
How Long Can Bonded Leather Last With Dogs as Pets?
Bonded leather is often not a long-lasting product. However, your mileage may vary.
Generally, most bonded leather furniture will peel and split within two to four years. While there are wide varieties of bonded leather, the low-quality ones will only look nice for about 12 to 18 months. After that, they'll start flaking.
To prevent this, condition your furniture every once in a while using a quality leather conditioner like Leather Honey. Keeping the material in shape prevents it from cracking or drying out, which is especially important in the winter when the air is dry, and the heat is on.
Wipe away any dust, debris, or grime accumulated on the bonded leather. To preserve the leather in good condition, wipe it with a damp cloth, dry it with another one, and add a leather conditioner.
Ensure that you keep your dog's nails nice and trimmed to reduce the damage to your furniture. I would also suggest getting a washable cover for the couch. While the texture of bonded leather prevents fur accumulation, an occasional deep cleaning can further ensure its longevity against the playful antics of dogs.
Additionally, to protect your furniture from pet-related damage, consider using furniture covers like the Sofa Shield Original Slipcover or waterproof pet blankets like the PetAmi Waterproof Dog Blanket for added protection.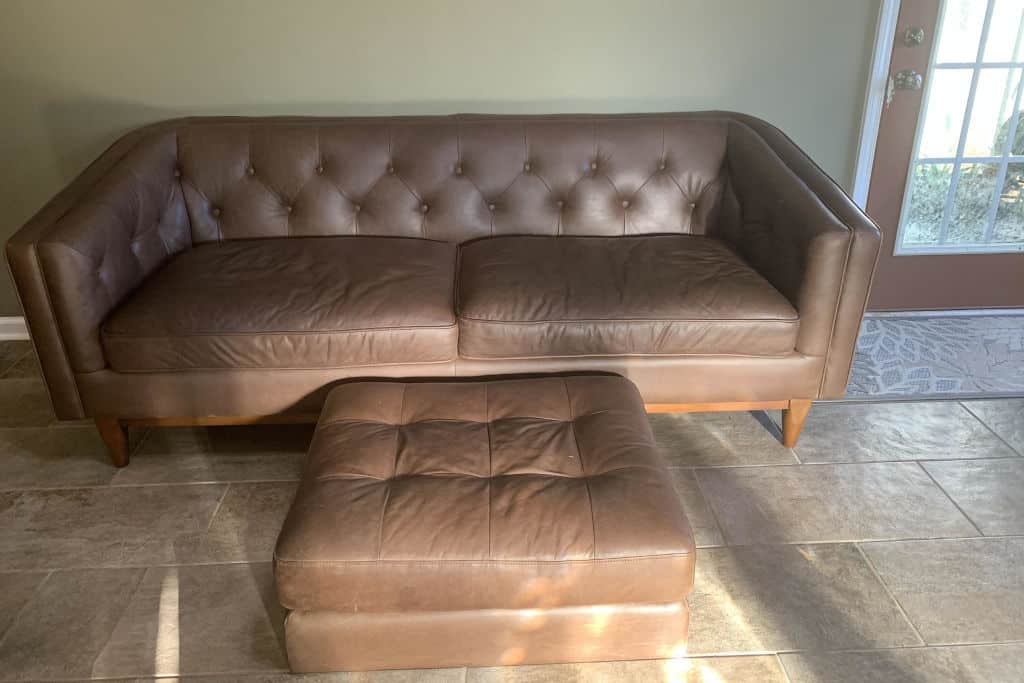 Is Genuine Leather Better Than Bonded Leather?
When considering the purchase of bonded leather for pet owners, examining the thickness and grain of the material can give a good initial impression of its durability.
Real, full-grain leather is an ideal choice if you have dogs. Cheaper imitations can tear, but full grain leather will last. The only time the dog may leave a mark is if they begin scratching to mark the site and exhibit nesting behavior, but the damage is minor.
I have two dogs using my leather couch, and it is only slightly scuffed after many years of usage. There are no punctures, and the couch looks pretty neat.
Only fake leather gets scratched. Genuine full-grain leather couches are perfect for dogs. However, just because a product is labeled as "genuine" doesn't mean it's real.
Considering a dog's natural behavior, genuine leather offers resilience against their claws and teeth, outlasting bonded leather when exposed to the same conditions
While you read the words "Genuine Leather" on a couch, it is usually a low-quality sort of bonded leather that should be avoided when shopping for leather items. When purchasing genuine leather, search for products branded "full grain."
I've had a leather couch for about ten years, and it's still in good condition. It is made of full-grain aniline leather and has a natural look and feel. The only minor damage is scratching caused by nesting behavior and discolored patches caused by frequent licking. 
However, you can fix this with treatment from Lexol conditioner, which you may want to apply every few months.
Another reason I like leather is that the hair doesn't get stuck in it, and it's easily cleaned.
What Is the Best Material for a Dog Proof Couch?
A real leather couch is one of the best materials for a dog owner.
When purchasing a leather couch or sofa, you can assess its quality by running your fingernails down the material with some force. If the surface begins to peel, it will do so naturally in a year or two.
This doesn't mean a couch labeled "genuine" leather is real leather. Instead, look for a "full-grain" label that usually costs more.
I have a high-quality leather couch that has lasted more than ten years. If you buy a new leather couch, I recommend covering it for the first few months to allow the leather to soften without dog nails.
Thick, textured upholstery is an alternative to real leather. It doesn't show stains, is quite comfortable, can withstand a large dog and cat, and the cushions are all removable and washable. It's also typically available at Costco.
Make sure you get an extended warranty on whatever you buy.
FAQs
Is leather better than fabric sofas for a dog?
A leather sofa made from "real" leather can survive any daily abuse your dog can throw out if properly maintained. Leather does not retain pet scents like other textiles but is also easily cleaned and will last much longer.
How do you keep bonded leather from peeling?
You won't be able to save bonded leather from peeling. If you wish to maintain it, you must cover it, or it will continue to peel. When bonded leather begins to flake, it's usually game over. The only real solution is to throw it away and replace it with something not made of bonded leather.
Can bonded leather get wet?
Bonded leather might become moist, so keep it dry. When leather is wet, it becomes brittle and begins to peel. When it's wet, it promotes the growth of mold and mildew. Wipe the bonded leather with a damp towel and then dry it with another cloth.